Reverend Meyer, a wedding officiant for more than 30 years, is the ideal celebrant for your wedding in the beautiful Wine Country of Sonoma County, California. His ceremonies—both classic and bespoke—joyfully reflect the bride and groom's love for each other and provide a foundation of relaxed stability to one of the most important events in your life, all amidst the backdrop of some of Northern California's, and indeed the world's, most spectacular scenery–Sonoma County's own Wine Country.
A modern spiritualist with a background in Christian ministry, Reverend Meyer is a wedding officiant capable and confident in performing ceremonies that range from traditional and religious to spiritual, non-denominational or 100% custom. Innate creativity and flexibility set Reverend Richard Meyer apart from other wedding officiants, ensuring that each individual couple's unique attributes and love for one another are highlighted. He can make suggestions and offer wedding vow options, or provide guidance to couples wishing to write their own vows.
In a region where pickup trucks are no more out of place than limousines, where world class wines are crafted and stellar micro beers are brewed, where the rugged ocean crashes at the feet of immaculate vineyards and manicured gardens, Reverend Meyer blends perfectly–a mix of organic, classic, humorous, knowledgeable, downhome luxury–this wedding officiant is, quite simply, a Sonoma County Wine Country gem.
With a wedding history spanning the coasts and inlets of California and Hawaii, Reverend Meyer's love of Sonoma County is evident in his ceremonial style, and the Wine Country serves as a perfect backdrop to his touching services. His confident, heartfelt ceremonies are now performed across Sonoma, Napa, Marin, Mendocino and Lake Counties. He has lovingly presided over the vows of two of his three adult daughters, and shows the same respect and care to each of the couples he has the honor to stand with.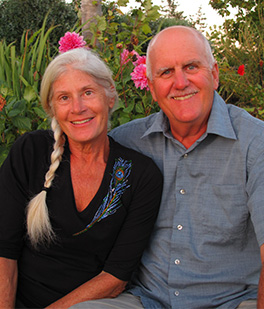 "In all the years we've been married, Dick has never wavered in his incredible dedication to others, his thoughtfulness, his care. This is evidenced not just in the way he approaches people, but in his love of animals and gardening.

He brings out the best in people and has a wonderful, calming effect in stressful situations. These are reasons he has been a tremendous husband, father, pastor and farmer, and they are reasons why as a wedding officiant he is so adept at dealing with brides and grooms amidst the sometimes hectic pace of a wedding."

~ Julie Meyer, Richard's wife