Our Wedding Packages
May I first offer my congratulations and encourage you to savor this time of preparation. I have been an ordained minister conducting ceremonies since 1984. Since 2010, I have focused exclusively on destination weddings in the beautiful wine regions of Sonoma and Napa, California.
Having personally worked with couples in all stages of life has granted me the privilege to accommodate various faith paths. Each couple has their own story, which makes every ceremony I have the honor to conduct one of a kind.
I understand that your wedding ceremony is more than just the vows and exchange of rings; it is a celebration of two lives coming together as one. As your officiant, my priority is that your ceremony reflects the uniqueness of your journey from the time you met, how you have grown in love, and respects your dreams and aspirations for the future. My second priority is that family and friends feel a deep sense of participation with you during the ceremony.
It is quite normal when envisioning your wedding ceremony to have no idea where to start. From your initial contact to the signing of the license, hours of preparation, phone conversations, emails, personal meetings, connecting with your planner, travel time and, most importantly, the ceremony itself will take place. The wedding ceremony is a specific moment and should provide lasting, joyful memories for the rest of your lives.
I make a tremendous, individualized investment to every couple I work with, and in every ceremony. Please refer to the fee categories below for more information, each of which reflects the time of week or the intimacy of the ceremony.
Below is a sample of my commitment: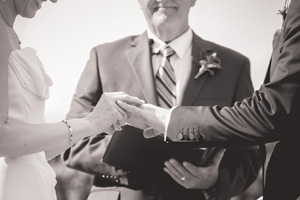 Introductory phone conversation
Provide ceremony examples and survey for background information and customization
You are also welcome to create your own vows
Provide and procure the necessary information to obtain your marriage license
Preparation time, travel time, and facilitation of the wedding ceremony
Officiation of the wedding ceremony in a personalized and professional manner
Obtain all necessary signatures on marriage license
File license and send confirmation